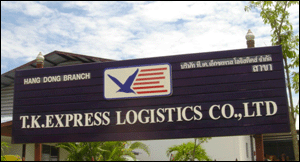 "TK Express Logistics" involvement with consolidating , packing and shipping has long experience since in all kinds of packing and shipping.
Since then it has specialized in catering to all kinds of exporters and importers working in Thailand especially in Chiangmai This spans the whole gamut from private package consignments to major multi-national corporations providing a full range of services but specializing in in furniture, household decoration ware, handicrafts and ceramics. These services include assisting in sourcing of qualified producers, local permit processes and negotiations with other local concerns. Through the quality packing & shipping and all necessary advice and documentation we arrange, our client can ensure an easy clearance on the other end. We also offer the use of our modern business center in Chiangmai to aid you in your export endeavors.
We are your one stop center whether you are an experienced wholesale importer or a smaller retail operation seeking to import from Thailand for the first time. The name and staff you can trust, "TK Express Logistics Co., Ltd."